A major international construction company used multiple ERP and Building Management Systems to operate and maintain their core and supporting business processes. Over time, due to changing business, regulatory and financial needs, an increasing number of manual processes arose in support of these key systems, causing additional administration overhead. Sample problems included:
Multiple versions: document control and changes were difficult to manage;
Quality issues: no (automated) checks on data entry, mandatory vs. optional data, conflicting data;
Decentralised storage: no central repository, items shared via email making audit trails challenging.
Utilising our expertise and experience in low code solutions we took the time to understand our client's needs, identified the full breadth of requirements, and through a process of review and collaborative design, delivered a low code application. Utilising an iterative Agile development approach we achieved frequent, rapid, signed off delivery cycles, with the goal of optimising, digitising and consolidating their process catalogue. Through extensive training and updated procedures we ensured the new process became the norm and desired way of working.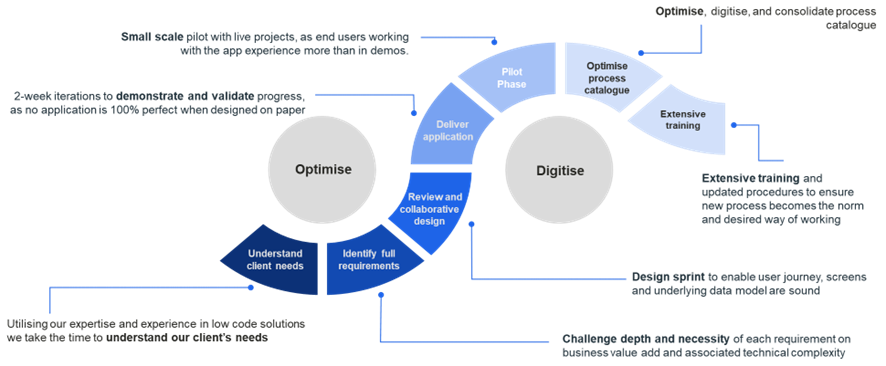 Valcon delivered a set of digitised business processes enabling:
Improved data quality, management and usage;
Organisation-wide standardised processes with built-in automated approvals;
Real-time tracking of KPI progress;
Centralised governance and control of the processes for consistency of use.
Following this successful first phase, subsequent applications are being designed and implemented.