Are you ready to replace your procurement system with the public solution in Denmark?
Do you know about the new public procurement system, IndFak3, which will replace its predecessor IndFak2 by the end of Q2 2024? Are you prepared for this transition? Or do you consider implementing IndFak3 as your new procure-to-pay system, possibly even directly integrated with the public ERP system?
To prepare for the implementation of IndFak3, ask yourself these six questions.
Do you have a clear overview of your existing contract and procurement processes, are they sufficiently managed and are they efficient?
Do you have sufficient digital support for your procurement activities today?
Are you aware of the content of IndFak3?
Do you know how IndFak3 can support your contract and procurement processes?
Are you aware of what it will take for your organisation to implement and operate this new solution?
Have you taken into consideration your current systems landscape and how to integrate IndFak3 while identifying what needs to be decommissioned?
If you are unsure about any of these questions, then please read on.
What is IndFak3? Introducing a new procurement solution
IndFak3, or "Statens Digitale Indkøb", is the new public solution for digital procurement developed by Økonomistyrelsen The Danish Agency for Public Finance and Management. IndFak3 will be rolled out to a large portion of public companies and organisations starting in the fall of 2023 and replace its predecessor IndFak2 which will be phased out by the end of Q2 2024. IndFak3 will function as a workflow system for case processing, audit requirements and control and approval procedures related to contracts, procurement and invoice processes. It is designed as a component in the financial ecosystem of the public systems landscape and is thus designed with native integration to NavisionStat, the public ERP system.
To prepare for the implementation of IndFak3, any Danish public organisation with this task pending should analyse the digital state of its existing procurement processes and assess how the new system can heighten the digitalisation of these processes. This creates an opportunity to increase the level of automation, gain deeper insights into processes through data analysis, and enhance decision-making in the procurement processes. This enables better management of spending.
How we prepared the University of Copenhagen for the implementation of IndFak3
During an analysis at the University of Copenhagen, Valcon analysed the updated requirements specification for the solution and interviewed the project leadership at Økonomistyrelsen responsible for the development of IndFak3. Through this analysis, Valcon gained a unique insight into IndFak3 and how it is designed to support the procurement processes of public institutions.
From December 2022 to February 2023, Valcon conducted an analysis of how the University of Copenhagen may adopt IndFak3. The analysis uncovered the existing system landscape, identified and described the projected functionality of IndFak3, and designed a future implementation of IndFak3 to introduce a higher degree of digitalisation of the contract and procurement processes. The project delivered suggestions for a revised systems landscape and identified relevant decisions leading to the best possible IndFak3 implementation leading to a number of intended benefits.
The analysis spanned across a period of 5-6 weeks with the below high-level activities:
Week 1: Mobilisation. Prepare a list of stakeholders and a plan for the process. Gather background material and hold a kick-off meeting
Weeks 2-3: Interviews. Conduct interviews and workshops to understand the procurement processes and the current system landscape's strengths and weaknesses
Week 4: The future. Consolidate desires for the future and establish framework conditions for IndFak3 and other systems. What is and what isn't supported by IndFak3?
Week 5: Consolidation. Consolidate what is required of KU, how processes are affected and how the system landscape is affected
The model below illustrates how the proposed redesign can help the University of Copenhagen from fragmented or no support of the contract and procurement processes to a simplified and comprehensive professional digital support of the contract and procurement processes across the university.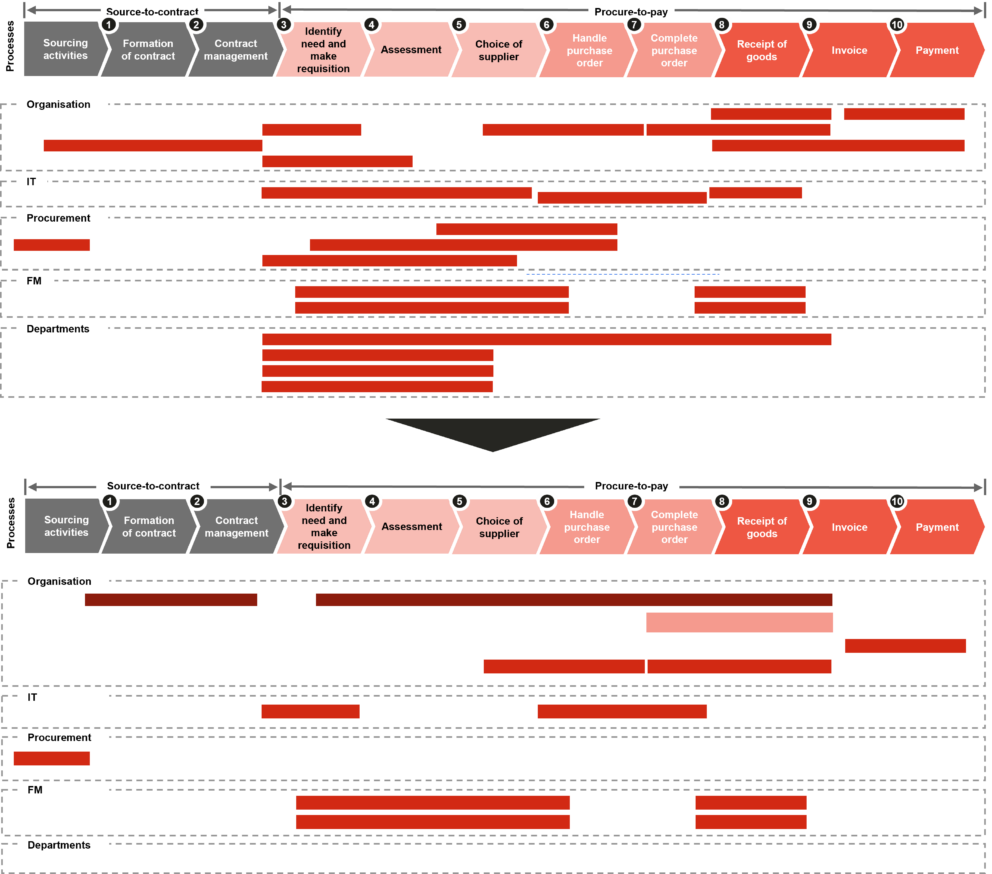 Get help preparing for the new system implementation
If you are in a similar position as the University of Copenhagen, and you want to streamline and digitise your procurement process, we can help you analyse your procurement processes and their current digital state to prepare for IndFak3. Contact us today to get help preparing for the new system implementation.
Peter Bundgaard Nørløv, Senior Manager, +45 3062 0093
Charlotte Pockendahl Andersen, Associate Partner, +45 2349 1725