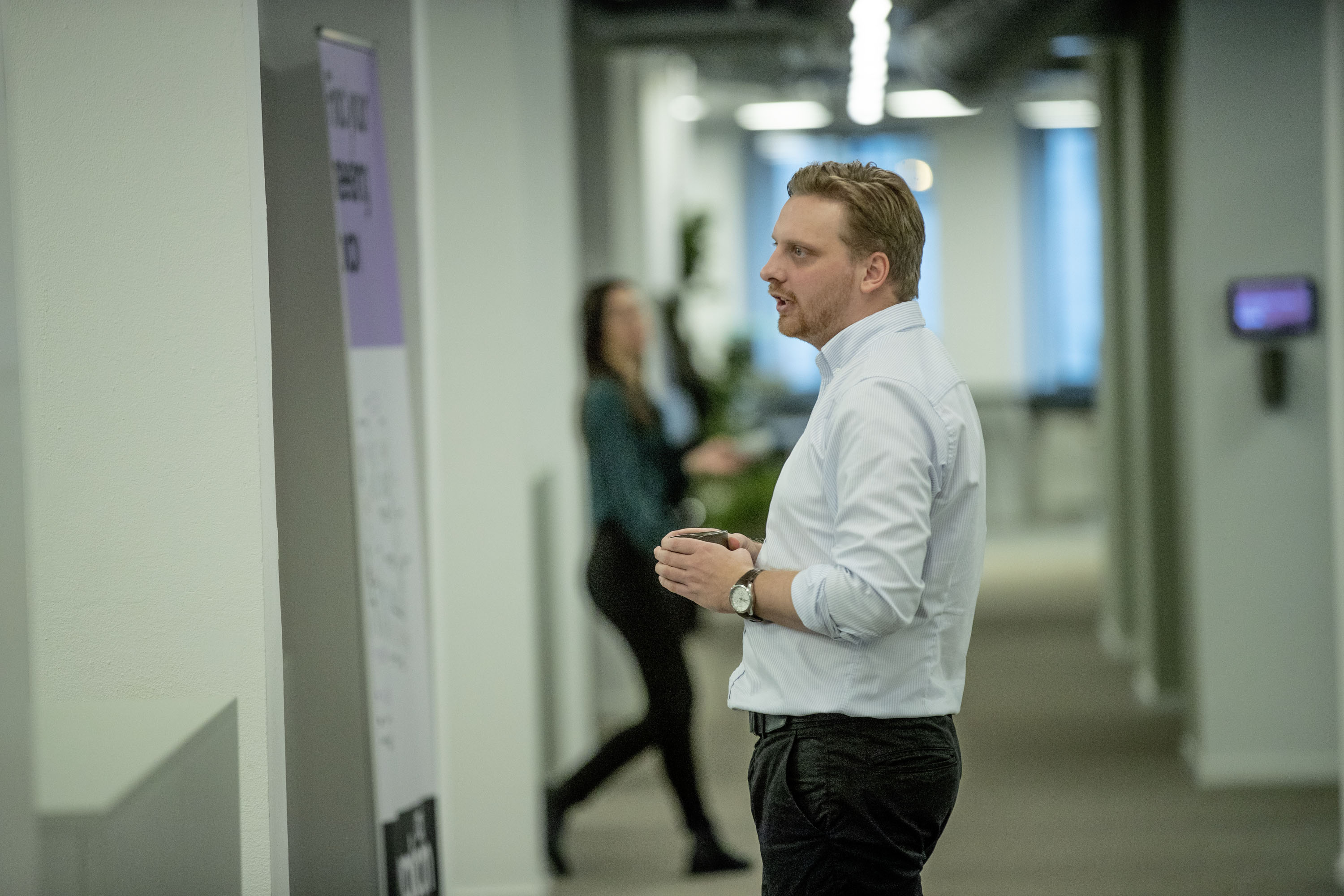 Carbon Reduction Plan
Valcon Group UK Ltd – Financial Year 2023
Executive Summary
This is the second time Valcon Group UK Ltd has commissioned a carbon footprint report. This report covers the calendar year 2021. Valcon has 2 UK sites, one at Kent Science Park and a small one in London although most staff worked mainly from home this year due to the COVID-19 pandemic.
A Carbon Footprint report is a good way to establish current practice and provide a basis for improvement, such as setting targets or a Net Zero strategy. The report was prepared and footprint calculated by a team of consultants at Carbon Managers using the data supplied by Valcon, in good faith. Any data presented here, totals or decisions made based upon the results remain the ultimate responsibility of the client, Valcon Ltd. The footprint is summarised below.

*The UK Government advises use of grid-average UK emissions for electricity usage, celled location-based reporting. This is the figure which should be reported in many official schemes.
Since Valcon purchases their power on a renewables-only tariff from Scottish Power, backed by a CGEP certificate, the scope 2 emissions can also be reported as zero under market based reporting. There is a small non-zero extra footprint from the transmission and distribution losses of the power grid which is included under Scope 3. See later sections for more detail.
Due to homeworking, some or all of the Scope 1 and 2 emissions from fuel and electricity use respectively have shifted into Scope 3 (supply chain) as they are now based on what staff do at home. Due to the pandemic, business travel is likely to have been much less than usual for protracted periods, as is commuting, all of which reduce Scope 3 against a typical non-pandemic year. Therefore -combined with the poor quality of some data and difficulty of producing an accurate footprint – these figures may not be suitable for use as a baseline year for setting reduction targets.
This footprint can be used as a starting point to improve data collection and accuracy, which normally have the useful effect of slightly reducing any emissions associated (it is easy to overestimate or round up travel mileages for example). It could be used to arrange a CO2 offset purchase, but probably is not good enough quality to achieve accreditation in any carbon-neutral scheme for example.
This report is a short guide to the results and possible next steps, particularly for this calendar year. If some basic improvements are made it should be possible to produce a reasonable quality footprint for 2022 and use it as a baseline to set reduction targets, especially if Valcon is interested in generating a Net Zero Plan. Managing the carbon impacts and other sustainability issues of business organisations has been shown to confer competitive advantage with customers, lowered risks, better opportunity-access and efficiency gains to reduce costs. So there are good business reasons to persevere, and early actions often yield the largest rewards.
Recommended actions are highlighted in bold within the text in the remainder of the report.
Results in detail
Scope 1- fuel use
It is assumed, lacking any data, that the London office is very small, and likely not gas-heated, hence there is no Scope 1 gas related footprint. The status of the Scope 1 data is shown below:

Even if their leased buildings are empty, Valcon as the tenant are still responsible for any emissions associated with heating and powering it, maintenance or other consumables and wastes. At time of writing there was no data on refrigerant use- even the best systems leak and require topping up. There was also no data on the London office. Even tiny post box type addresses will have a small associated footprint; and for shared workspaces tenants will be responsible for a percentage of the total building emissions. Collecting, or liaising with the landlord(s) to obtain, utility bills is strongly recommended where these are still missing.
Scope 2
By far the greatest contribution to the footprint comes from the leased office in Kent, as the whole of Scope 2 calculated here at 118 t CO2e. This is somewhat surprising as many staff were working from home for much of the time. However, it probably indicates that the building was not closed down most of the time but instead still being powered, plus heated and cooled electrically.
While it is true that Valcon has a renewable tariff, and so can report the emissions here as zero (under market-based reporting), there are some indications that it would be worth checking the utility readings given.
The graph of power usage below indicates some strange readings- it may be the meter (submeter?) is not functioning correctly, or readings were not taken for some time and the March one contains usage from the previous year or earlier. It is not possible to tell from the data file provided. On costs grounds alone the electricity data should be investigated.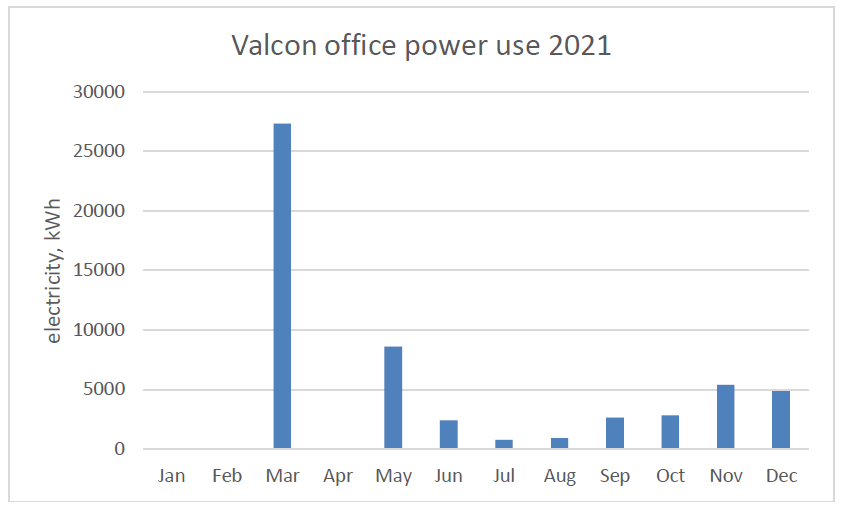 The electricity usage data at the Kent office indicates (assuming an average desk space of 10m2 and enough desks for the full FTE count of 70 people) an average annual consumption of 79 kWh/m2. This is concerning as this is a mostly empty office, compared to a recent national average figure of 90 kWh/m2 for a typical fully occupied working office (CIBSE 2013 survey). Either the building is very inefficient or again, the meter data is wrong. More reason to investigate the data and office performance, perhaps to set a minimum acceptable EPC for any leased premises.
Since it is likely that hybrid/home working will continue to be a feature of Valcon's working practices going forward, it is also recommended that the size of leased office be reviewed and downsized to reduce the cost. This will also obviously reduce direct and indirect emissions under location-based reporting, and indirect emissions (Scope 3) under market-based reporting.

As with Scope1, there is no power data for the London office. Although it is likely to be a small contributor, this data should be collected from the landlord.
Scope 3 – the supply chain
This includes activities of employees such as travel in non-company vehicles, commuting, power and fuel use from homeworking, and use and disposal of physical items. Since this is a broad category the footprint summary is much more complex. It includes the impact of making and delivering any fuel or electricity to the company, before it is used. For employee's own homes and cars, it includes both this indirect type and the direct emissions of fuels and electricity, since the purchase decision and usage behaviour rests with the employee not the company. Note that the company figures may be a little low as they are based on the same utility bills as before, or data is missing such as for waste. The data-based footprint is below, see later for the estimated part of Scope 3.
Water
The data on water use at the Kent office are shown below. It is not clear why water is being used in an empty office in some months so this should be queried and investigated. The usage looks much more steady across the year on the other hand which seems more likely given the low office occupancy, if there is some automated system in use.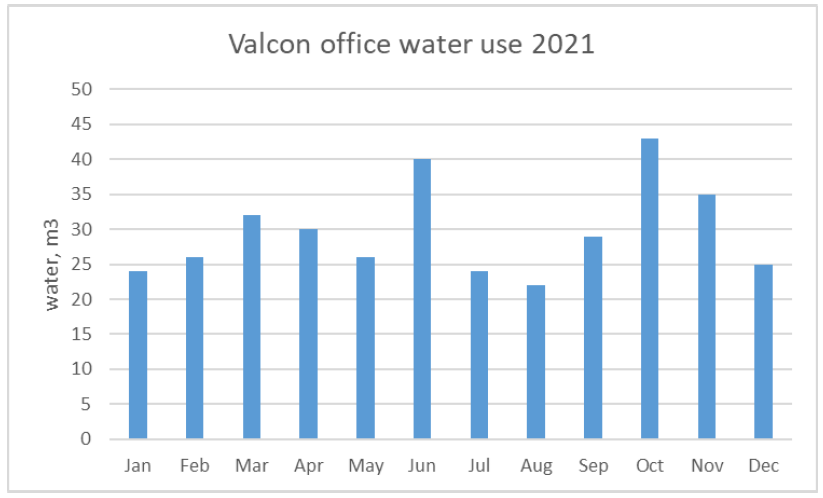 Travel
There was some data available for travel, however the expense system does not record sufficient information to produce a full and reasonably accurate footprint, and it is recommended that the policy and practice on expense claims be immediately improved to facilitate better data collection, ideally trip mileages for transport and vehicle details as a minimum (registration and vehicle engine fuel type/size) for fuel claims; this should also help with any internal processes or external audits (e.g. HMRC). The newer expense system does seem more capable, but the data being entered are still incomplete, with mileages sometimes only appearing in the description field. It is recommended that staff be trained on the new expenses system, and a policy of not paying incorrectly filled claims could be considered. (With a timely option to go back and correct the claim, obviously).
Once more detail is known about use of employee cars, this may highlight other possible steps to reduce Valcon's impact.
Commuting
An employee survey on commuting has been attempted and received only 19% responses returned at the date of calculation. It is not clear how representative of the general staff the responses are, but for footprint purposes it is assumed they are proportionate to the rest of the organisation. The estimated nature is reflected in the "poor" status assigned to the data quality. One individual seems to have made the vast majority of trips, using a small car, which may mean this calculation is not very accurate or representative.
Homeworking
The data contained in some parts of the survey was not detailed enough to enable a data-based footprint; for example for any staff using renewable tariffs when working at home, the provider name is also needed as not all providers have a zero footprint under market-based reporting. It is recommended, if hybrid and/or homeworking remains a significant part of Valcon working life, that a better response rate is needed, and a more detailed and complete survey of travel, energy use and providers, to enable more accurate footprinting. This will require staff to monitor and share more data about their home energy and fuel use, as well as their own vehicles and travel behaviors. Note this can be done relatively simply if a system is set up to collect data in a process throughout the year rather than trying to remember old events or second guess later.
Where some information on office/home occupancy was available from the survey it has been possible to estimate potential pro-rata footprints using best practice and statistics on typical home energy consumption. These figures can be further adjusted and refined as better data is collected. Although they are much smaller than the office footprint, they are still large enough to be significant contributions.

Further Suggestions
In order to make progress, it is also strongly recommended that:
A senior staff member be appointed to own and champion to delivery of the carbon footprint process, and preferably other sustainability actions, as part of their objectives and authority.
A year-round process is implemented, with tweaks to policies as needed, to enable the collection of data as you go along, which is much easier to do than in one big retrospective attempt. The better data will also enable improvements in other company governance activities.
An annual review of the footprint and progress on actions/targets should be implemented.
Any offsets should be purchased from a verified source, such as one accredited by Verified Carbon Standard (Carbon Managers will help to facilitate this).
Ideally targets and strategy/policies should be set and pursued in alignment with a well recognised or accredited scheme e.g. SBTI (Science Based Targets Initiative)
Valcon may wish to also join an accreditation scheme to give its reporting and progress more credibility with stakeholders.
Estimating footprint from best practice/FTE countItemStatusData QualityNotesMetricCompany heat fuel WTTPoor for LondonCompany power T&DPoorHome working power usepartial surveyPoorestimated footprint4.45t CO2eHome working fuel usepartial surveyPoorestimated footprint7.621t CO2emay be too large, assumes 8 hours extra heat/daytotal12.067t CO2enot applicable- utility data avialableoccupancy-based estimated footprint for (Kent) officenot applicable- no gas in Kent. London unknownoccupancy-based estimated footprint for (Kent) office
12
Further advice and support on taking these actions forward, or detailed discussion of the data, is available from Carbon Managers on request. Questions about the methodology can be addressed via email ([email protected]).