The premises for doing business are changing
In the past, the organisational role of procurement was to support business growth by satisfying the demand and reducing the cost by any legal means necessary. This approach has been successful for both companies and large parts of the world's growing population. Unfortunately, this one-sided focus on growth is proving unsustainable not only for the general humanity but also for companies here and now.
In our daily work with clients, we see five trends that significantly impact the prevalent business logic:
Natural resources are increasingly scarce and politicised: The fluctuating prices of energy and raw materials in recent years and the huge supply challenges of many industrial companies illustrate the scarcity we are facing. Further, every war, conflict and strategic positioning from Ukraine to West Africa and the Arctic has an underlying resource logic.
Global supply chains are becoming more volatile: Events such as COVID-19, the Suez-canal blockage and the war on Ukraine have contributed to a more unpredictable and complex supply chain landscape, making it challenging for businesses to mitigate risks. As a response, concepts such as near-shoring and friend-shoring and protectionist policies are on the rise globally, and it is growing more important who we do business with.
The need for transparency is expanding: We are familiar with the obligation to be financially accountable. However, the growing awareness of environmental, social and governance aspects of doing business drives regulations like the EU taxonomy and CSR directive and requires financial institutions to secure transparency and traceability in the consumption of energy and raw materials.
Technological possibilities are developing fast: Every day, new technologies are being developed that promise companies fast ways to create supply chain transparency. While these solutions appear as great opportunities, many companies do not have the digital maturity to unlock their full potential.
Global public opinions drive changes at immense speed: Companies are being held responsible for their entire supply chain, not only by regulations, but also by the global public opinion on particularly social media. Unethical or unsustainable behaviour anywhere in the company's supply chain lead to immediate boycotts.
What does this mean for future procurement?
These are big topics that belong on the agenda of every board and executive committee, but nowhere are they more obvious and operational than in procurement. Procurement is becoming the central battlefield for the strategic sustainability of many of the companies we meet.
The operational impact is that it is becoming:
Increasingly difficult to secure the needed goods for the business
Less about costs and more about value – or even storytelling – related to the supplier
Less about production and more about refinement in a circular flow of materials
Increasingly important to keep partners close and less focus on the individual transaction
Essential to govern data and minimise the burden of maintaining them – also for the suppliers
Welcome to the Chief Resource Officer
Now is the time to change the view of Procurement. The new resource function plays the leading part in creating and demonstrating business value across all these changes. That is why we recommend resource functions to:
Take part in the value proposition: Represent the company's sustainability impact at C-level and allow them to compete on a wider range of parameters. Provide valuable end-to-end insights, track the origin and sustainability of resources, reverse supply chains and supplier risk through the ecosystem. Be the business developer that identifies next-level sustainable business opportunities.
Build the cross-organisational scalable operational model of tomorrow and address the paradigm shift towards digitalisation and co-existence in the ecosystem. Make conscious choices to improve the aggregated ESG impact that ensures real sustainable solutions. Ensure the supplier ecosystem and collaboration models meet future demand i.e. for ensure supply chain resilience, holistic incentive structures and transparency throughout the supplier network.
Develop your commercial capabilities and business mindset. Grow commercial skills that addresses value rather than cost reductions. Grow digital skills to understand and automate data flow, accelerate digitalization of transaction-based procurement and utilise the value of data sharing. Recruit new procurement profiles with the skillset to form partnerships and ensure sustainable outcomes.
For sure, the game is on, and each day you wait to act, you lose competitive edge. We recommend to start out be setting a joint ambition for your management team and formulate a strategy and action plan that implies your reformulated operating model, present and future technologies, management system, supplier portfolio and redesigned supply chains. Valcon drives the strategy formulation by this process that might help you to build the roadmap.
The below figure shows Valcon's strategy process for a future operational model for sourcing and supplier management.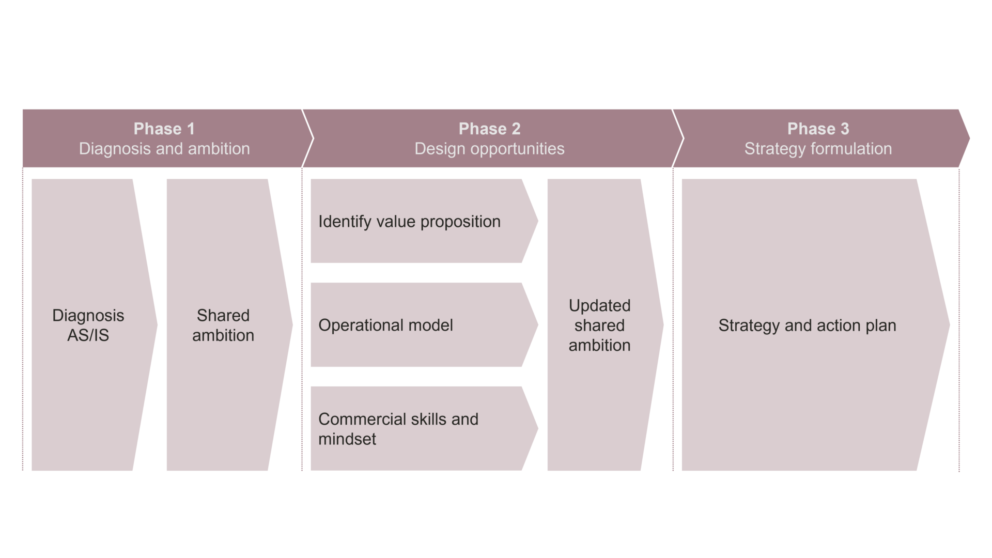 We can help you ensure your organisation has the commitment, understanding and support it needs to make a sustainable change happen. Learn more here or reach out to our team of experts:
Ulrick Sebber, Associate Partner, +45 2787 2111
Lars Thorgaard Henriksen, Associate Partner +45 2278 0661
Erik Lind Olsen, Partner, +45 2183 4414