"Oh-no, deadlines are quickly getting closer and scarce skills are needed! There is too much work and too little time." Do you recognise this feeling and want to give your data projects an extra boost? Then using hybrid data teams might be the solution for you.
Continuous improvement is a key element in Valcon's way of working. This article is a good example of how we at Valcon strive to assist our clients with data challenges.
What is a hybrid data team?
There is an increasing demand from clients for Valcon to be more scalable and have a more diverse skillset regarding data projects. With local limitations and scarcity concerning data skills, Valcon decided to examine a hybrid team approach. The hybrid team approach involves teams of locally-based employees working together with remote-located (near-shore) employees. Together with its clients, Valcon found an ideal balance to make this staffing model successful without losing face-to-face presence in projects.
Hybrid data teams can be composed of data engineers, scientists and analysts. Depending on specific needs, the teams will be extended with other skills needed to achieve the best result (data integrators, cloud engineers, programmers, testers, etc.). The balance between local and remote colleagues depends on the type of project, but the teams are always fully integrated.
The circle of balance
The power of Valcon's hybrid data teams lies in the circle of balance, consisting of five characteristics every team should have:
The centre of the circle shows one of Valcon's core values 'Together': Valcon employees and clients working side by side
Highly scalable team size
A balanced team with local presence and the needed seniority
Scarce data skills: 'non-regular' skills are available to assist on all data-related topics
High-quality delivery track record (individuals and team)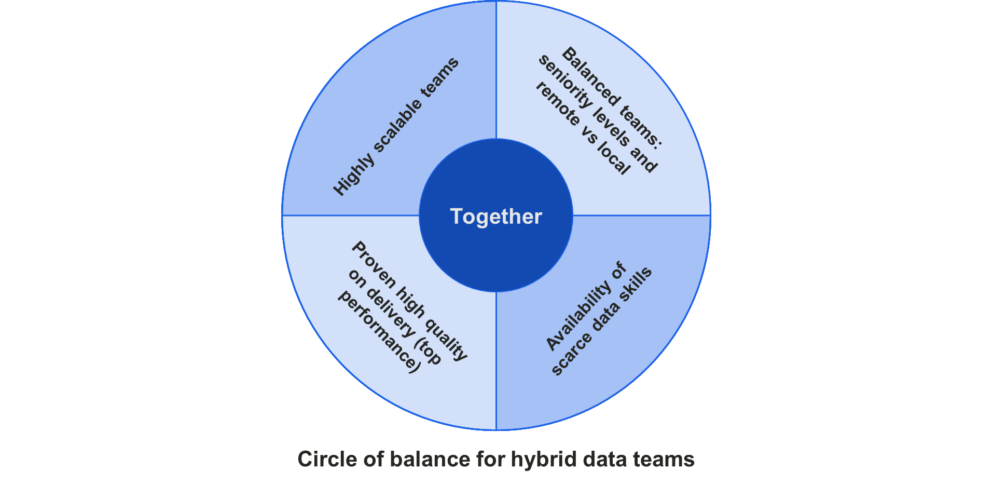 Valcon data employees
To be successful in projects, Valcon has some prerequisites regarding all of its data employees. Most important is that the Valcon core values and the required skill levels apply to all employees regardless of their home country. A uniform certification programme is part of the Valcon Data Academy and only the highest-skilled candidates are contracted.
Insights
Examples of projects Valcon successfully delivered using hybrid data teams are projects concerning data migrations, designing and developing data platforms, and reporting environments. These projects have shown that using hybrid data teams induces lead time reduction and lowers costs.
Please reach out to your Valcon contact or Sander de Jongh ([email protected]) for more information.
In this article, you can read how we work with bleanding nearshore and onshore when setting teams.