Situation and problem definition
Becoming data-driven is crucial in defying new challenges
Insurance companies today (both Property & Casualty, Health and Life Insurance) are facing many challenges due to a number of shifting elements in society and in the insurance world itself.
New challenges include:
New risks (e.g. cyber hacks, acts of war, climate change effects, instability on financial markets)
Shifting client expectations (e.g. digital by design, service-oriented, prevention-oriented, need for transparency, connectivity, responsibility, inclusiveness and sustainability/ESG)
Upcoming legislation and supervision adjustments (e.g. solvency II)
Tech developments (e.g. AI, automation, microservices, cloud migration)
Exploration of new distribution models
New competitors (e.g. InsurTechs, new players in insurance ecosystems)
Structural shift from office work to working from home (due to COVID-19 lockdowns)
Retention of human capital (due to heated labour market)
All these changes are forcing insurance companies to make significant steps in terms of process simplification, automation, digitisation, customer needs and market development insights and data-driven transformation. Since becoming data-driven is beneficial for most of the above-mentioned challenges, this article will focus on how to transform into a data-driven enterprise.
Objective
Benefits of a data-driven insurance company
The business value of being data-driven can be cashed for insurance companies over at least five domains: the customer domain, the operations domain, the finance domain and the strategy, portfolio & innovation domain.
Better data and analytics in the customer domain will provide insurance companies with better insight into customer needs and behaviour, customer value, customer journey, net promotor score/satisfaction indicators and better-targeted pricing, acquisition, cross-sell and retention actions.
Data in the operations domain of insurers can be beneficial to e.g., improve actuarial models, better insights into the claims handling process and – on top of that – provide more handles on fraud detection and how to better prevent claims.
The finance domain will benefit from data with better forecasting models and good governance on risk and compliance processes, among others.
The strategy, portfolio & innovation domain within insurance companies will also be boosted by a data-driven uplift because one will be better prepared for strategic decision-making based on more accurate data analysis with a wider scope. These decisions may lead to developing new products and services, differentiating customer interactions, entering other market segments and exploring new distribution channels, partnerships or ecosystems.
Approach and conclusion
Obstacles in transforming into a data-driven enterprise
The transformation into a data-driven enterprise is easier said than done. We see a lot of obstacles for companies in their journey, such as fragmented and siloed data in various legacy systems, lack of a data-driven culture, no commitment of the leadership team, no clue where to start in the roadmap, lack of data analytics skills, data quality issues and limited scale-up of successful data use cases.
How to start the data-driven transformation
As many insurance companies don't know exactly where to begin or proceed, we normally start with a maturity assessment. Depending on ambition, this may vary in scope and level of detail. Based on the outcomes of this first assessment we normally initiate three different data transformation streams or levels (see the model in picture 1).
The first stream is the strategy or 'brains' stream in which insurance companies have the possibility to draft a data mission, vision, ambition, strategy, roadmap and key performance indicators to monitor in a cockpit or dashboard. We also call this the 'brains' stream.
The second stream is the business value stream in which a long list of use cases will be inventorised and a limited number of potential beneficial use cases will be piloted. This highly important stream is the heartbeat of the data transformation programme and should guarantee that the business will be long-lasting committed. We also call this the 'heart' stream.
The third stream is the stream of developing data enablers or building blocks. This stream will build a solid data foundation for the insurance company. Data culture, data skills, data lake, data platform, tooling and governance are a few important blocks in this stream. We also call this the 'body' stream.
All three streams can be started at the same time, this will even improve the coherence of the data-driven transformation.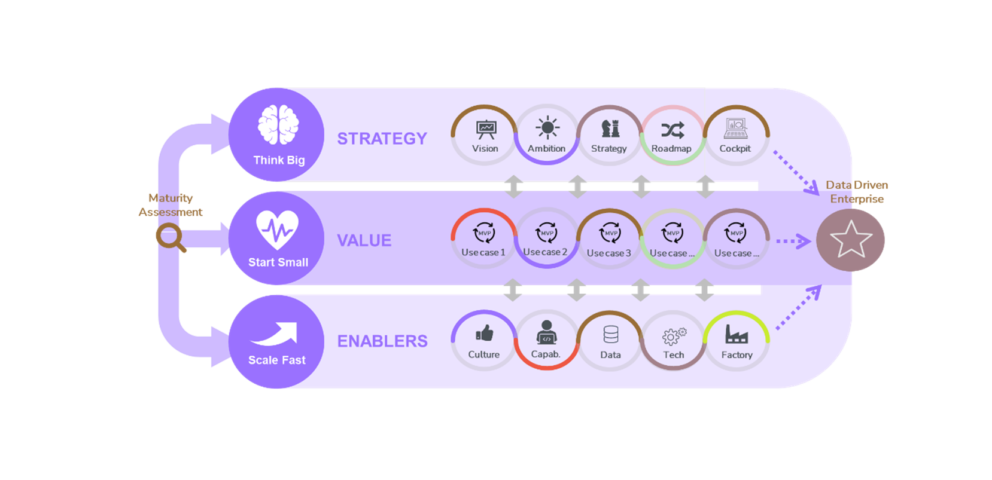 Do you need help in transforming your business into a data-driven enterprise? Contact:
Pieter Stel
Associate Partner
[email protected]